Solar Pool Heating

Lets Extend your swim season. Solar pool heating is the most economical and cost effective way to heat a pool. The greenest of the pool heating options solar pool heating is very affordable and will give you the pleasure of being able to use your pool from approximately September to March without feeling the cold, wouldn't that be nice?
What pool temperature do I need?
Typically from solar pool heating we expect 7 months a year at 27 degrees plus temps, this is based on using a minimum 100% coverage of the pools surface area.
Resort pools 27 – 28 degrees
Council pools 26 or 27 degrees.
Learn to Swim pools 30 Degrees
Hydrotherapy 32 Degrees
How Solar Pool Heating Works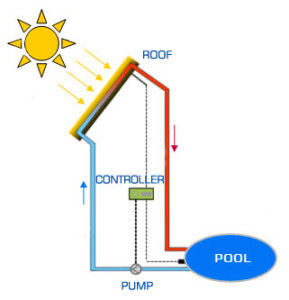 The water is sent to the collector (which is normally on the roof) by a pump which is turned on by a solar controller when there is solar gain.
The water is then heated by the sun's FREE energy as it passes through the collector. The solar controller and pump recirculate the pool water until your pool reaches the desired temperature. This is the most cost effective way to heat your swimming pool and extend the swimming season.
How long to install my Solar Pool Heating?
Solar pool heating can typically be installed in 1- 2 days depending on the size your pool heating system you choose. At Double Bay Solar we have 2 different types of solar pool heating which are, Rigid Panel systems and Flexible collector strip. Both are very effective at heating your pool.
Speak with our Pool Heating Consultant today, Call 1300724132 or