Nanotek Extreme Solar Pool Heating
Nanotek Extreme Solar Pool Heating is the future of solar pool heating technology. Nanotek Extreme solar comes in a unique 14 Tube profile and is made from similar materials to our Ultimate Blue Solar, except that during the Co Extrusion manufacturing process extra materials known as High-Tech Nano Polymers are added.
These Nano-graphitic polymers create a solar pool heating collector that has faster heat absorption which means your pool will heat faster and you will enjoy better pool temperatures for longer.
Nanotek Extreme Solar Pool Heating is now available Sydney
At Local Pool Heating we have tried many solar pool heating products over the years, using Nanotek Extreme Solar in Sydney has yielded some excellent results with customers being astonished at how fast their pool heats up. Just goes to show there is nothing better than Australian technology and innovation.
Nanotek Extreme Solar Installation & Warranty
Nanotek Extreme is installed like our other solar pool heating systems, being attached to the roof using a roofing adhesive silicon. When installed to Australian Standards using the Tufman range of solar pool heating products the Nanotek Extreme comes with a 15 year warranty.
Nanotek Extreme Vs Cockatoos
Its interesting to think that birds fly around looking to attack materials on roofs that are not good for them to eat. While it is true that at times some solar pool heating systems have suffered bird attack, it is not necessary to make a big deal out of it. We have perhaps 1% of our service repairs come from Cockatoo attack and the rest is in fact from old rubber solar pool heating systems that have started to pin hole and leak from age. This pin hole process is simply a break down in the rubber based solar systems and is often blamed on bird attack.
Nanotek Extreme is made from PVC Nitrile and Nano-graphitic materials and is not generally susceptible to pin holing caused by age like a rubber system. With regular annual servicing of your solar pool heating as recommended by the manufacturer you should have a fully working solar pool heating beyond the 15 year warranty as offered.
If you are in an extreme bird attack prone area (Like your neighbours next door feed the cockatoos) talk to us about installing bird netting when we come to quote.
Speak with our Pool Heating Consultant today about Nanotek Extreme Solar, Call 1300724132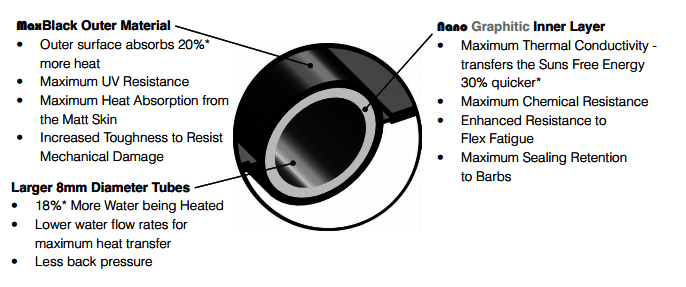 Speak with our Pool Heating Consultant today, Call 1300724132 or