Accent Heat Pumps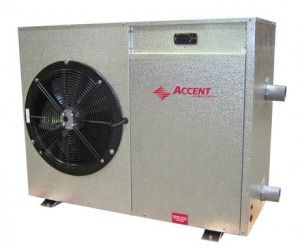 Accent heat pumps are commercially designed to heat any pool. With an easy to install system and a simple user interface, Accent heat pumps are pretty much set and forget.
Once your heat pump is installed, simply adjust the controller to the desired temperature and you will be swimming in no time.
Accent heat pumps from 20kw and up are known as TOP Blow units meaning the fans are on top of the unit and the air is also exhausted upwards which means that Accent heat pumps are the perfect choice where you are limited on sideways space for exhaust.
Heat pumps that recycle their own air are terribly in efficient.
Accent Heat pumps in the residential range come in 2 styles of model, the original style is known is a BB case (1150mm long) which is shorter then the newer SB case at 1450mm. Both models are top blow fans except the smallest unit in the range which is a 10kw side blow unit.
Accent Heat Pump Warranty
Accent heat pump warranty is 12 months on the electronics and 10 years on the heat exchanger. While this is standard with most other brands the time in which you get support from Accent Air is impeccable and you will usually be contacted within 48 hours to discuss warranty issues and site visits etc. Being a Rheem company there are agents in almost every location in Australia, help and support are never far away.
If you are considering a heat pump for your next pool, install an Accent by Rheem.
Click Here for Accent Brochure
To speak with a Pool Heating Consultant today call us at 1300724132 or